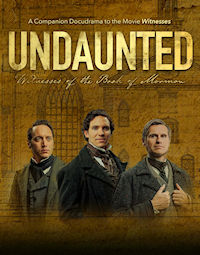 Undaunted Witnesses
Explore the history of the Three Witnesses as well as other witnesses of the Book of Mormon with Camrey Bagley Fox, Emma Smith in the movie Witnesses, and Dr. Gerrit Dirkmaat, Associate Professor of Church History at BYU. Were the eleven official witnesses—twelve if you include Joseph Smith himself—of the Book of Mormon reliable? What about the unofficial witnesses who interacted with the plates in various ways—including a number of women? Were the plates actually made of gold? How could witnesses really hear the voice of God and yet come to doubt His prophet? Become more familiar with these early saints, none of whom ever denied their claims, but instead boldly proclaimed their testimonies.
UNDAUNTED: Witnesses of the Book of Mormon is a companion docudrama to the theatrical feature film WITNESSES. Produced by the Interpreter Foundation, UNDAUNTED provides a deep-dive into the lives of those who claimed to have seen and handled the gold plates from which the Book of Mormon was translated. Learn more about UNDAUNTED at https://witnessesundaunted.com/.
Witnesses of the Book of Mormon — Insights is a series of mini-films providing even greater depth into the many insightful interviews during the course of this project. Episodes will be released each Saturday at 7pm MDT on this and other websites, including YouTube. Go to https://interpreterfoundation.org/category/witnesses-insights/ for links to all of the released episodes, with each post including the embedded video, an audio recording, and a transcript of the episode. The mini-films are also available on YouTube at https://www.youtube.com/c/theinterpreterfoundation.